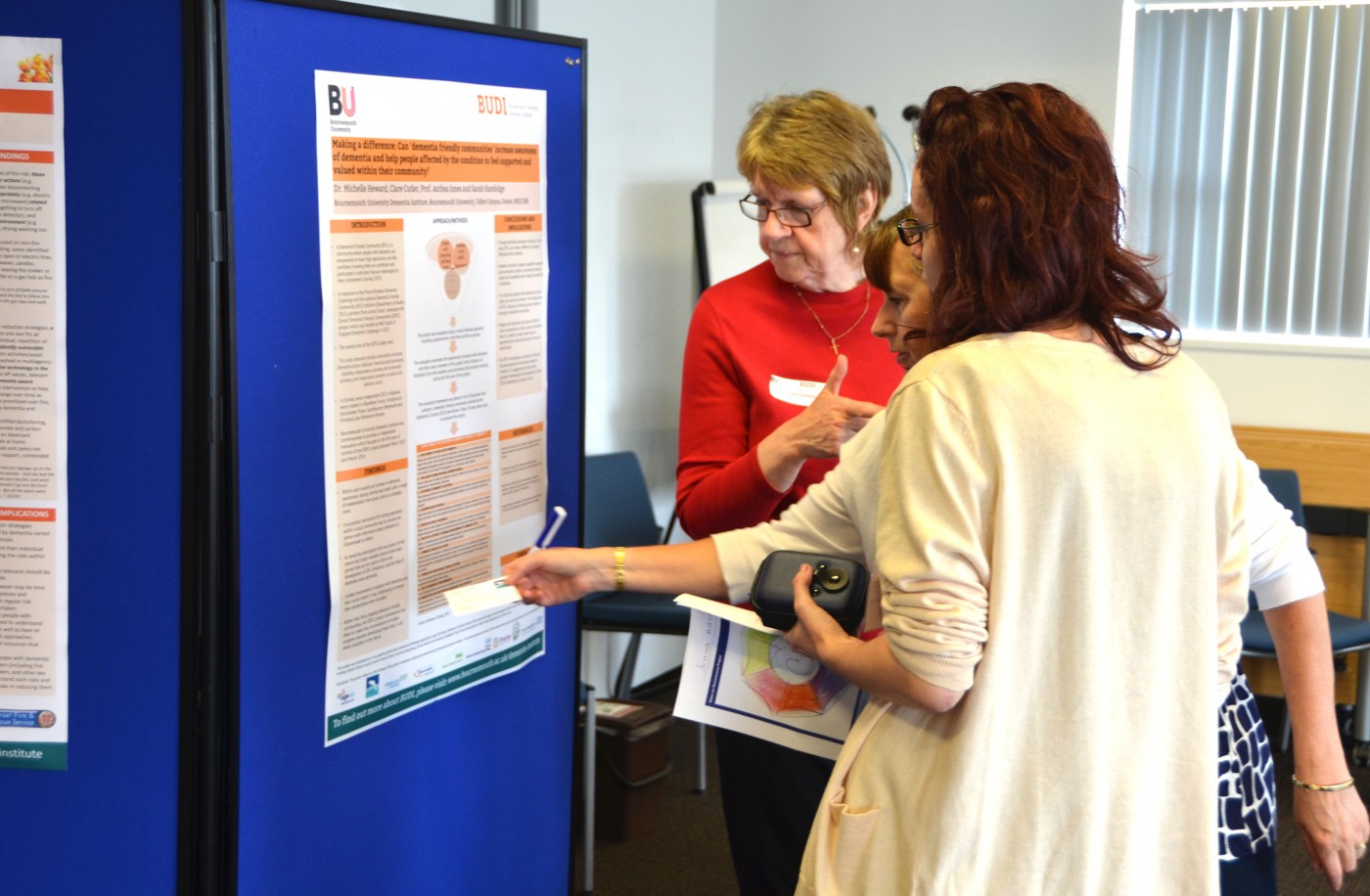 Last Wednesday, Bournemouth University Dementia Institute (BUDI) held their fourth annual Open Day. The event marked a new era for BUDI as Dr Jan Wiener and Dr Jane Murphy announced their arrival as the new Head and Co-Head of the Institute, respectively. The event was BUDI's most successful yet with close to 100 people attending including academics, local practitioners, business, charity and care managers as well as people with dementia and their care partners. This emphasises the great in-roads BUDI continues to make within the local community and the interest that their research is generating.
The event consisted of five presentations delivered by BUDI staff and PhD researchers. Kicking it off, Mary O'Malley, Ramona Grzeschik and Chris Hilton spoke about their project on 'Wayfinding in Dementia.' This is fast becoming a specialist area within BUDI after the success of Jan Wiener's ESRC grant. Following this, Samuel Nyman and Yolanda Barrado-Martin discussed their recently funded NIHR project that aims to use Tai Chi for people with dementia and their care partners. Michelle Heward then outlined the work she has been doing with the local fire service to develop training that enables them to support people with dementia living at home, before Ben Hicks spoke about the innovative 'Cage Cricket' project that he is delivering at Hampshire Cricket ground. Finally Rick Fisher concluded the talks by promoting the new BUDI Online Masters Programme that started this academic year. The range of talks highlighted the varied research that BUDI continues to undertake within its remit as a cross-discipline Institute.
The post-presentation activities included a networking and poster session before Michelle Heward closed the event by delivering a Dementia Friends Awareness Session as part of BUDI's wider aim to ensure Bournemouth becomes a Dementia-Friendly University.
Feedback suggested the event was an enjoyable day out for all those who attended and helped to ensure that BUDI continues to play an integral role in supporting those living with dementia and their care partners within the Dorset County.
'The event exceeded my expectations – very useful contacts and information about all projects'  (Dementia Practitioner)
'To see how the university/BUDI is linking with the community and developing ideas to improve things' (Dementia Practitioner)