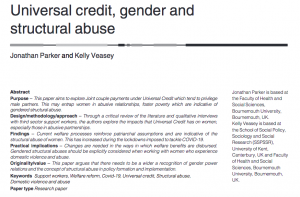 We are pleased to announce the publication of our paper demonstrating some of the problems with Universal Credit in perpetuating patriarchal assumptions and placing women at risk of domestic violence and abuse in danger, especially during lockdowns resulting from the pandemic. It is particularly pleasing that this is the second paper Prof Jonathan Parker has published with former BU student, Kelly Veasey, who now works as a researcher with Citizen's Advice whilst completing a master's degree in international social policy at the University of Kent.
The paper, 'Universal Credit, Gender and Structural Abuse', builds on Parker's development of the concept of structural abuse as a hidden concern for care home staff and residents during the 2020-21 pandemic (also published in the Journal of Adult Protection), and on Veasey's research exploring the negative impact of welfare conditionality on those at risk of homelessness, exacerbated through the inappropriately named Universal Credit, and published in the Journal of Humanities and Applied Social Sciences.
Inequalities are embedded within our social systems and those ostensibly designed to support and protect people in poverty. This paper adds to our understanding and calls for changes to an inequitable system based on differentiation rather than universality.
Jonathan Parker