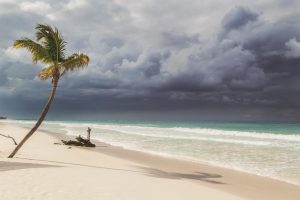 Disasters and crises can involve human, material, economic and environmental loss, whether natural or as a result of human activity. Their impacts can exceed the ability of the affected community to cope through their own resources; however, they can be reduced, or possibly even prevented, with the appropriate risk management and the right guidance and training.
When BU's Disaster Management Centre (BUDMC) was first established in 2001, it was a small operation, led by Richard Gordon, Director of BUDMC, who grew the centre by concentrating its work overseas instead of emulating similar organisations who were focusing on the UK post 9/11. From the start, BUDMC focused on delivering executive disaster management training to senior government ministers and their representatives, including key military appointments and overseas delegations.
"The earliest project we worked on was an EU initiative that looked at ways to bring together the new nation states that emerged from the former Yugoslavia in such a way that they could incorporate crisis and disaster management," says Richard. "The project broke down so many barriers. On day one, they were focused on local concerns, but by day two, they were learning to work together – and it was the most beautiful thing to see."
Over the next decade, the Centre gradually built up its reach and reputation in training and enterprise. By 2015 the team was regularly delivering executive training sessions in 12 nations annually, both abroad and in the UK. Since 2015, Professor Lee Miles and Dr Henry Bang have joined BUDMC, with the aim of widening the Centre's research capacity in disaster management.
"When I joined in 2015, BUDMC was already carrying out some fantastic work in terms of its training and education. We now had the opportunity to also increase its research activity," explains Professor Miles. "One of the distinctive features of the Centre is that we carry out quite a lot of research before delivering a training course; this is then fed into the course and subsequently built into the crisis simulations. It is a very practical example of research led professional practice and the practical impact of research ideas. It represents fusion in practice."
Today, all of the Centre's projects now seek to combine effective enterprise delivery with innovative research which means BUDMC staff work closely together to produce world class activity of international excellence. The combination of research with training allows the Centre to contribute innovative and fresh ideas which are helping to assist policy makers and professionals in crisis and disaster management across the world.
One of BUDMC's most recent projects – the PINPOINT programme – identifies single points of failure in disaster management in the Caribbean.
"We've just completed the first phase of the PINPOINT programme," says Professor Miles. "This project, which is led by Richard and I, has been looking at the British Virgin Islands in particular. They have recently faced huge challenges, following Hurricanes Irma and Maria, which caused extensive damage to the British Virgin Islands with homes, businesses and roads destroyed and communities left with no power, sanitation or water."
BUDMC carried out two major research data collections, both just before and after Hurricane Irma, to identify the actual vulnerabilities and offer an accurate snapshot of the British Virgin Islands (BVI) and in particular the specific single points of failure across the respective territories of the BVI prior to and after Irma and Maria. This research showed that there are real differences between the islands and that overall there were major issues, such as with communication networks, and reliance of key institutions and individuals, that would severely affect their responses to major hurricanes.
Professor Miles reported on this PINPOINT research in national and international press, such as the BBC News Channel, Good Morning Britain (ITV), CNN International and BBC Radio 4's Today Programme. Moreover, the research has also fed into media training to statutory bodies and media professionals in the Caribbean (April 2017) as well as into the reflections of the UK Government in the run-up to the 2018 Hurricane season.
"One of the Centre's distinctive features is that it is recognised externally as having expertise in strategic thinking around disaster management," explains Professor Miles, "This is important as it means that the research and recommendations that we develop within the BUDMC are being put into practice by professionals working in industry and in government, both home and abroad. It also means that we are able to gain feedback from those working in the field, which in turn, can help us to shape our future research to be as relevant as possible."
The Centre is looking to continue to develop and widen its education provision into the future whilst also developing its research environment by expanding the numbers of recruited Masters and PhD students, both from overseas and in the UK. BUDMC's world class provision and global recognition has attracted substantial interest from postgraduate candidates as well as visiting fellows from other countries; all keen to work alongside BUDMC staff in disaster management training and participate in BUDMC research projects.
"With around 14 years working outside of the UK, our work is becoming much more relevant now to the UK and indeed we as a nation will find ourselves learning from many of the countries where BUDMC has been operating over the years," says Richard.
For more information, visit BUDMC's webpage: http://budmc.uk/
This article was featured in the 2018 Bournemouth Research Chronicle. To see the magazine in full, click here or pick up a copy in Poole House or Studland House reception.