In March over fifty students from the Criminology/Criminology and Sociology programmes went on a field trip to Shire Hall Court House Museum in Dorchester. The trip was organised by Jade Levell, however it happened over three days so lots of staff were involved in supporting the trip, including Dr Jane Healy, Professor Jonathan Parker, Dr Stephanie Schwandner-Sievers, Dr Hyun-Joo Lim, Professor Jayne Caudwell and Jo Wells.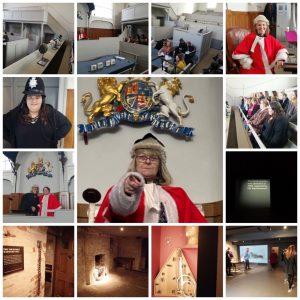 Shire Hall was Dorset's courthouse from 1797 until 1955. Through that time, it saw everything from the 1834 trial of the Tolpuddle Martyrs to the 1856 domestic abuse case that inspired Thomas Hardy to write 'Tess of the D'Urbervilles', to victims of mesmerism, child perpetrators and American GIs tried during the Second World War.
Throughout the day the students worked on a real life case of a 15 year old boy tried with Arson back in 1832. The students used their learning throughout the first part of the 'Introduction to Crime and Criminal Justice' unit to work on arguments for the prosecution and defence of the case. Then during the field trip had the chance to go through the real historic documents relating to Silvester's arrest, the media coverage at the time and the reports on his eventual execution. We all donned hats and costumes and enacted a debate on this case in the actual court room he was tried in. Add to that the students had a tour of the museum, including the original cell blocks.
A fascinating trip was had by all! It brought the learning to life and helped us think about the historic context of our criminal justice system and how it has changed and evolved through time.
A very big thank you to Shire Hall for hosting us and facilitating our day.