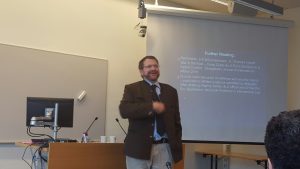 The event saw international practitioners and researchers discussing the challenges to the international security environment from a Scandinavian and international perspective. Participants from the USA, Sweden, Ukraine, Finland, the UK, South Africa and Norway tried to bridge the challenge of addressing such issues from a multidisciplinary research point of view.
 The symposium
was organised by the Land Operation Section, Dept. of Military Studies at the Swedish Defence University (SEDU) in collaboration with
the Centre for Conflict, Rule of Law and Society, Bournemouth University and the Center for Asymmetric Threat Studies (CATS). It was funded by Riksbankens Jubileumsfond (RJ) (Grant No: F16-1240:1)
The findings of the symposium will be published by a leading publisher on international security studies.