Bournemouth University's, Dr Elvira Bolat and Dr Kaouther Kooli, and Professor Len Tiu Wright from University of Huddersfield have published new article in Journal of Business and Industrial Marketing.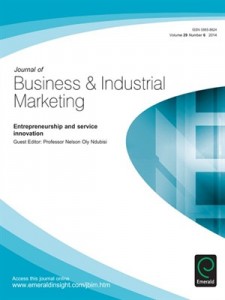 "The study is amongst the first to provide insights into B2B firms' practices of using mobile social media. This paper found that marketing and advertising firms use mobile social media for branding, sensing market, managing relationships and developing content. Mobile social media is treated by businesses as a strategic firm-specific capability that drives firms' competitiveness, where imitation of such capability by competitors is limited because mobile social media skills are specific to individuals within organisations and mobile social media routines are manifested as a result of firm-specific mobile social media skills' interactions."
Access full article by clicking on the image below.