The theme of this year's Women's International Day (IWD) is 'Choose to Challenge'.
So, why is International Women's Day important?
While IWD is about women it is not just for women. It focuses our collective minds on not only women's achievements but, crucially, on what further big steps are needed to achieve genuine intersectional equality in social, civic and political spaces. While in some parts of the world women activists are subject to terrible oppression simply for championing the right to drive a car, elsewhere we have seen how women-of-colour are breaking down institutional barriers in the US Presidential elections.
If you would like to learn more about this extraordinary historical moment please join us at our International Webinar Speaker Event on March 8, 10.00-11.00 on 'Black Political Women and the 2020 US Presidential Election: Lessons, Questions, & the Pursuit Lessons'
 Abstract
Professor Nikol G. Alexander Floyd discusses the rise of Black political women in the US and the historic election of vice-president Kamala Harris, the first female and first Black and South Asian vice-president. She will also discuss how the policy needs of Black women and their communities might be addressed under the Biden administration and weighing competing definitions of progress in the current political moment.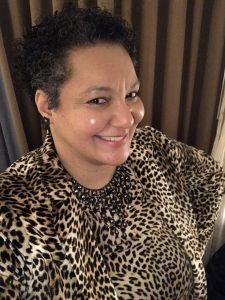 Speaker Information:
Nikol G. Alexander-Floyd is Associate Professor Political Science at Rutgers University-New Brunswick. A lawyer and political scientist, she is the co-founder of the Association for the Study of Black Women in Politics. Author of Gender, Race, and Nationalism in Contemporary Black Politics (Palgrave Macmillan 2007) and of the forthcoming Re-Imagining Black Women: A Critique of Post-Feminist and Post-Racial Melodrama in Culture and Politics (forthcoming NYU Press, April 2020) (https://www.amazon.com/Re-Imagining-Black-Women-Post-Feminist-Post-Racial/dp/1479850896/ref=sr_1_1?dchild=1&keywords=nikol+alexander-floyd&qid=1605716932&sr=8-1). Her articles have appeared in leading journals such as Feminist Formations;  Frontiers: A Journal of Women's Studies; The National Political Science Review; Politics & Gender; and Signs, and she is a past program co-chair of the Annual Meeting of the National Women's Studies Association.
 Chair: Professor Candida Yates, FMC
Event Organiser: Professor Sara Ashencaen Crabtree, Women's Academic Network; FHSS
For more details about this Women's Academic Network IWD event and registration go to Eventbrite at https://bit.ly/3jIKdUJ