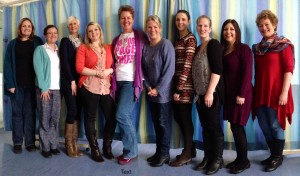 After many months of negotiation I packed my weekend bag and set off to Eastbourne to provide the first of a six day programme spread over three months on newborn examination, to a select cohort of nine midwives who work for the East Sussex NHS Healthcare Trust. The nearest university (Brighton) does not provide the module and I regularly have midwives travelling up from Brighton to attend the two courses provided annually at the Lansdowne Campus.
Midwives from the midwife led unit (EMU as it is fondly referred to) at Eastbourne Hospital, the acute trust at Hastings and Crowbridge Birthing Unit all joined the module at the beginning of January 2014. Some of the midwives were undertaking the unit in work time and some during their annual leave, but all were enthusiastic and very excited to be finally learning the skills and competencies necessary to become newborn examiners. Currently no midwives in the combined trusts undertake newborn examination and all babies are either examined by junior doctors in training or general practitioners (GPs) in the community setting. For a number of years there have been concerns expressed in the literature around the quality of the newborn examination when undertaken by junior doctors and GPs mainly around training and on-going education. Traditionally doctors in NHS hospitals were taught newborn examination under the mantra 'see one – do one – teach one', midwives on the other hand, have had to undergo many months of extra training and are required to undertake between 40 & 60 newborn examinations before being deemed competent. These conditions became onerous for midwives as it became difficult for them to find mentors and assessors to support them in practice. Many requested extensions and in some cases took almost two years to complete. This model of learning was not sustainable in the long run for both the clinical workplace and for university processes. Therefore an opportunity arose to change how BU provided examination of the newborn (EXON) when the post registration framework was re-validated in 2012, with the main difference being in relation to the examinations.
Midwifery is a self-regulating profession; therefore it is up to individual practitioners to judge whether they are component when providing midwifery care. The philosophy of self-regulation underpinning competency guided the provision of the new EXON course in relation to the number of examinations required. Midwives have to carry out a minimum of 10 mentored newborn checks, with five examinations being directly supervised. Once 10 examinations have been carried out midwives can undertake as many self-assessed newborn checks until they feel competent. Once they have reached this point they put themselves forward for one summative assessment which is a newborn examination evaluated in practice.  Midwives have nine months to complete the module. In addition, to further support midwives in training for this role, experienced midwives around the BU patch and as far as West Wiltshire have been provided with a half day update focusing on mentoring/assessing and understanding the EXON paperwork. These midwives have now taken on the role of mentoring and assessing midwives through EXON.
Now having delivered the six day programme the midwives in Eastbourne have successfully completed the academic requirement,s with all passing their 'enquiry-based learning' presentations which focused on an aspect of newborn physiology/pathology. The presentations were of an extremely high standard and feedback from the unit leader recommended writing up their work for publication in the British Journal of Midwifery. Their unit evaluations were 100% positive. One of the main benefits centered on the midwives forming a cohesive group and getting to know each other better.  These midwives are leading the way at East Sussex Healthcare. Once they qualify, they in turn, can become mentors and assessors for the next cohort. Perhaps even more importantly, evidence demonstrates that when midwives undertake this expanded role, women's satisfaction and midwifery autonomy is increased and crucially, there is continuity of care for the woman and her baby and for the midwife herself.
For further information on the EXON module please contact Luisa Cescutti-Butler, Senior Lecturer, Lansdowne Campus: lcbutler@bournemouth.ac.uk