Academics and filmmakers are being encouraged to enter their work into the 2017 Research in Film Awards, organised by the Arts and Humanities Research Council.
The competition closes on Thursday 6 July at 16:00 hours. 
These awards are designed to recognise and reward the considerable body of work created at the interface between research and film and to acknowledge the world-leading work of researchers, practitioners and filmmakers in the arts and humanities research community.
There are five categories in total, including four aimed at the research community. These include Best Research Film of the Year, Best Doctoral or Early Career Film, Innovation Award and the International Development Award: Mobilising Global Voices. The Inspiration Award returns for the third year and offers a fantastic opportunity for members of the public to be involved while receiving recognition for their work.
The winning filmmakers in each category will receive £2,000 towards their filmmaking activities and will be honoured at an awards ceremony this November at the prestigious 195 Piccadilly in London, the home of BAFTA.
The films will be judged by a panel of academic and film industry experts, including Richard Davidson-Houston, Head of All 4, Channel Four Television, Professor Andrew Chitty, AHRC Creative Economy Champion, British film critic Antonia Quirke, and Matthew Reisz from Times Higher Education. Once again Jan Dalley, Arts Editor of the Financial Times, will chair the judging panel.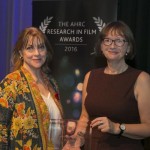 Last year, Bournemouth University's Sue Sudbury won the Innovation Award – new approaches to storytelling in film.  You can watch the film here.