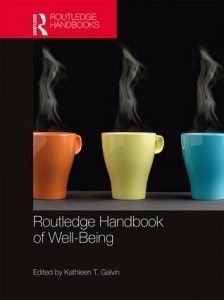 Congratulations to current and past academics in the Faculty of Health & Social Sciences and the Faculty of Science & Technology who contributed to the newly published Routledge Handbook of Well-Being.  The editor Prof. Kate Galvin was previously based at Bournemouth University.  She is currently Professor of Nursing Practice in the School of Health Sciences at the University of Brighton.
The following four chapters in the edited collection have been authored or co-authored by BU scholars and students past and present:
Dwelling- Mobility: An Existential Theory of Well-being Chapter 8 by Les Todres & Kate Galvin
Heritage and Well-being: Therapeutic places, past and present Chapter 11 by Timothy Darvill, Vanessa Heaslip & Kerry Barras
Embodied Routes to Well-being: Horses and Young People Chapter 20 by Ann Hemingway
Eighteen Kinds of well-being but there may be many more: A conceptual Framework that provides direction for Caring Chapter 30 by Kate Galvin & Les Todres.
Congratulations to all!
Prof. Edwin van Teijlingen