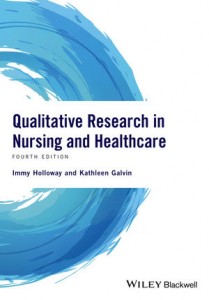 Congratulations to BU Professor Emerita Immy Holloway and FHSS (Faculty of Health & Social Sciences) Visiting Faculty Professor Kathleen Galvin on the publication of the latest edition of Qualitative Research in Nursing and Healthcare [1].  This new edition offers insights into both the abstract ideas in qualitative research and its practical procedures. Structured into four sections, the new edition looks at the initial stages, methods of data collection, qualitative approaches and analysis of collected data.  Professor Galvin is Professor of Nursing Practice in the College of Life, Health & Physical Sciences, at the University of Brighton.  Both Immy Holloway and Kate Galvin are affiliated with BU's Centre for Qualitative Research (CQR), the longest running research centre in FHSS.
Congratulations!
Prof. Edwin van Teijlingen
Reference:
Holloway I & Galvin K. (2017) Qualitative Research in Nursing and Healthcare. Wiley-Blackwell 4th ed.