I had the pleasure of presenting two papers at last week's international criminology conference at my alma mater, University College Dublin (UCD), representing BU for the first time since joining last September. As with all international conferences, there was an eclectic mix of personalities, researchers, academics and practitioners, representing both sides of the border, as well as the UK, Canada and further afield. The field of criminology remains a niche area in the Republic (but growing slowly) and it was a pleasant surprise to see over 100 delegates at the two day conference presenting papers on prisons, probation, policing, offending, criminal law, victims and prisoners' rights.
The conference opened with a keynote address by Prof Eamonn Carrabine from the University of Essex who gave an inspiring paper on what he (and others) terms the new criminology of war. Drawing on Mann, Klein and Ruggiero's work, he emphasised how war is an "image event". Using war photography to support this thesis, he demonstrated the way in which war is an intense cultural production, in particular drawing our attention to the impact it has on the towns and villages that are bombarded, and the consequential (de)structural barriers to cultural evolution.
The conference topic was "New Frontiers in Criminology" and there was certainly plenty of food for thought as to where criminological study might develop in the future, with other presentations that considered indigenous criminology, online crime and labour trafficking, for example.  These were complimented with more 'traditional' discussions around rape myths, desistance and youth justice. The majority of papers focussed on prisons, probations and police with only a limited number on victimology itself. My own paper highlighted the more unique forms of hate crime targeted against disabled people, including accusations of benefit fraud, the fluidity of both online and offline abuse, and the use or threat of sexual violence as a method of hate crime.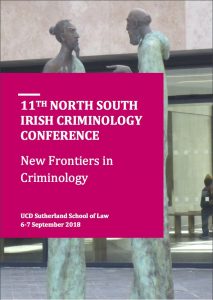 I jointly presented the only other hate crime paper at the conference with Dr James Palfreman-Kay from Equality & Diversity at BU.  Our hate crime project, which provides students with forum theatre scenarios to enable them to discuss hate crime in an interactive – and safe – way, was recognised by the panel audience as an innovative method of engaging in such a sensitive topic.
As new frontiers go, hate crime is an area ripe for research development in contemporary Ireland. Despite almost a quarter of a century of hate studies here in the UK, there is limited research in the Republic on this topic, with the exception of course of sectarian violence. There is currently no  hate legislation in the Republic, despite recent efforts and encouragement from the likes of Dr Jennifer Schweppe at the University of Limerick and a recent publication by Jennifer, Seamus Taylor, and others. Given the increasing hate crimes and incidents being reported in the UK, I really do hope to see the introduction of hate legislation in the Republic at the very least and would encourage potential PhD students to consider it as an avenue to contributory research.
Given the dearth of victimological papers (and hate studies) presented at the conference, we hope that we achieved our goal of introducting new avenues and 'frontiers' for future criminological research with colleagues overseas. We welcome further enquiries from home and abroad who might want to adapt or explore our methods or areas of enquiries. Their absence however did not detract from an interesting and enthusiastic gathering that highlighted so many other fruitful areas of research for me in the future. As an ECR, I left wanting to know more about everything from the demise of prisoners' rights movements to the question of whether the State's criminal justice system can ever be constrained through proportionality.  I am grateful to have been given the opportunity to attend the conference and would encourage others to look out for the "NSICC" in future years. Highlights of the event can be found by following @UCDLaw or #NSICC on Twitter.
Dr Jane Healy is a Lecturer in Sociology and Crime & Deviance in the Faculty of Health and Social Sciences and recently completed her PhD in disablist hate crime