Tuesday saw the launch of the Applied Research Collaboration (ARC) for Wessex. This exciting development brings together health and care organisations (including NHS Trusts, universities, Clinical Research Network, Academic Health Science Network, voluntary organisations) to respond to the needs of the people living in Wessex.
The day was opened by Professor Alison Richardson, Director of ARC Wessex who highlighted the challenges faced in Wessex and the four ARC themes designed to address them. There were short presentations of some of the innovative initial projects within the themes: Janis Baird – food product placement; Peter Griffiths – workforce; Stephen Lim – physical activity for older adults; Stephanie Health – Wessex Activation and Self-Management (WASP).
This was followed by a question and answer session with partners from across Wessex (Chair Sandy Ciccognani):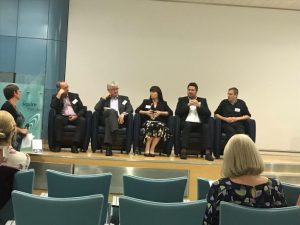 Dr. Chris Kipps – University of Southampton
Bill Gillespie – Academic Health Science Network
Prof. Vanora Hundley – Bournemouth University
Richard Samuel – Hampshire and Isle of Wight STP
Dr. Mark Tighe – Poole Hospitals NHS Foundation Trust
Future work will focus on developing new projects within the four ARC themes and colleagues may wish to contact the theme leads to establish collaborative networks. The four themes and leads are:
Aging and Dementia – Theme Lead Prof. Helen Roberts
Long Term Conditions – Theme Lead Prof. Maria Stokes
Healthy Communities – Themes Lead Prof. Julie Parkes
Health Systems & Workforce – Theme Lead Dr. Tom Monks
To find out more:
Website www.arc-wx.nihr.ac.uk .
Twitter  https://twitter.com/arc_wessex
Email  arcwessex@soton.ac.uk