At Café Scientifique, you can explore the latest ideas in science and technology in a relaxed online setting. Enjoy listening to a short talk before engaging in debate and discussion with our guest speaker and audience.
We'll be joined by Dr Emilie Hardouin on Tuesday 1 February from 7.00pm until 8.30pm.
A Shallow Gene Pool – Red Squirrels in the South of England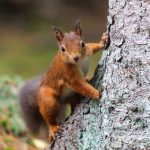 The red squirrel is an enduring symbol of British wildlife but survives in the South of England only on islands – the Isle of Wight and in Poole Harbour. Join Dr Emilie Hardouin to discover what genetics can tell us about where these last surviving populations came from, and how they can be protected from extinction.
Attendance is free but booking is required