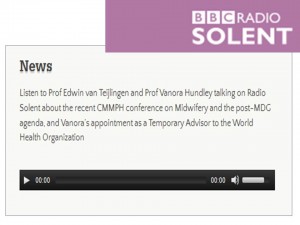 Radio interview on BBC Radio Solent on Katie Martin's show with Prof. Vanora Hundley and Prof. Edwin van Teijlingen.  They are talking about the recent international conference held at BU.   Katie also asked Prof. Hundley about her prestigious role as Temporary Advisor to the World Health Organization in Geneva (Switzerland).
The interview can be found of the CMMPH web site, see: http://research.bournemouth.ac.uk/centre/centre-for-midwifery-maternal-and-perinatal-health/.
Researchers from the University of Aberdeen, University College London (UCL), the University of Southampton, Integrare (Spain), Evidence for Action (E4A) and BU organised a successful international maternity workforce conference in Bournemouth on February 5th.    This conference discussed the global agenda on maternal and new-born health for the next 15 years and addressed the role midwifery should and could have in international policies.
The conference received BU FUSION support!