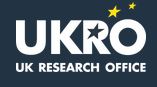 Do you aspire to be an EU-funded researcher?
The planning for our annual UKRO visit from our European Adviser, Maribel Glogowski, is well underway. This will take place on Wednesday, 14th October 2015 at Talbot Campus.
There will be an information sharing session for RKEO-only staff in the morning with presentations for all staff in the afternoon (13:00 – c. 16:30). It is expected that the afternoon session will include a general introduction to EU funding and the draft Work Programmes to 2017. You can see the draft Work Programmes in the Subscribers' area on the UKRO portal. As BU subscribes to this service, all staff can register.
Please register for this event as soon as possible by contacting Dianne Goodman. Once we have your details, we will send the full programme, when it is confirmed. The schedule for the day will also be announced on the Research Blog nearer the date.
If you have any burning EU funding information needs, do let me, Emily Cieciura, know as soon as possible, so that we can incorporate your query into the session, where possible.