Poster Exhibition | The 12th Annual Postgraduate Research Conference 
Karim Khaled, PhD student in the Faculty of Health & Social Sciences with this poster entitled:
Validation of the European Prospective Investigation into Cancer (EPIC) Food Frequency Questionnaire for use among Adults in Lebanon
Click the poster below to enlarge.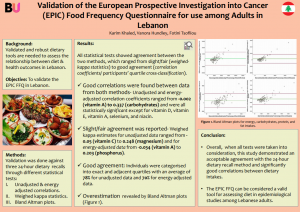 The aim of this study was to validate the EPIC food frequency questionnaire in Lebanon. The validation was done by comparing data collected from the EPIC FFQ with that collected from three 24-hour recalls. Unadjusted and energy adjusted correlations, Bland Altman plots, and weighed kappa statistics were used to assess the agreement between the two methods. Unadjusted and energy-adjusted correlation coefficients ranged from -0.002 (vitamin A) to 0.337 (carbohydrates) and were all statistically significant except for vitamin D, vitamin E, vitamin A, selenium, and niacin. The weighed kappa estimates for unadjusted data ranged from -0.05 (vitamin C) to 0.248 (magnesium). Weighed kappa for energy-adjusted data ranged from -0.034 (vitamin A) to 0.203 (phosphorus). The visual inspection of the Bland-Altman plots revealed over-estimation of energy, carbohydrates, protein, and fat intakes by the FFQ method. This validation study demonstrated an overall acceptable agreement compared to the 24-h recall method.
You can view the full poster exhibition on the conference webpage.
---
If this research has inspired you and you'd like to explore applying for a research degree please visit the postgraduate research web pages or contact our dedicated admissions team.