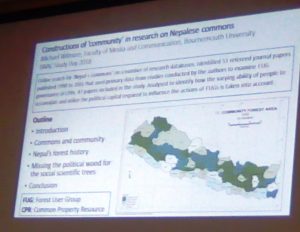 Today on the second day of the 2018 BNAC (Britain-Nepal Academic Council) conference there was a very good representation of Bournemouth University (BU) research at Durham University.  BU's Professor Michael Wilmore presented his paper: Construction of 'Community' in Research on Nepalese Commons.  In the morning FHSS's PhD student Jib Acharya had an oral presentation on Impact of Healthy Snacks on Children's Health: An Overview of a Pilot Study.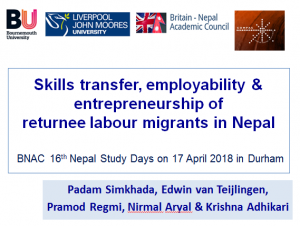 Prof. Edwin van Teijlingen presented joint work between BU, Liverpool John Moors University (LJMU) and the University of Oxford on the topic Skills transfer, employability & entrepreneurship of returnee labour migrants in Nepal. Bournemouth University was involved in this project through Dr. Pramod Regmi, Dr. Nirmal Aryal and Prof. Edwin van Teijlingen.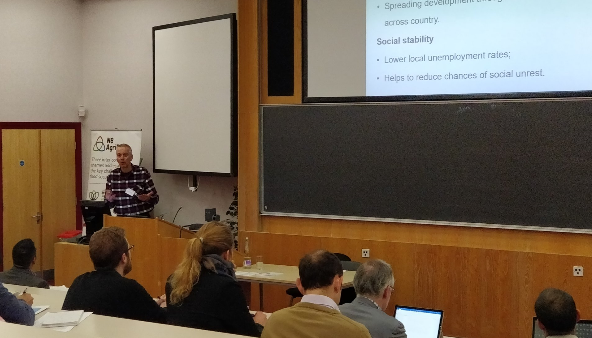 The final talk of the day (and of the conference) was by Prof. Padam Simkhada from LJMU.  Prof. Simkhada is also Visiting Professor at the Centre for Midwifery, Maternal & Perinatal Health at Bournemouth University.  He was presenting Debate on Educational Reform in Nepal: Outcomes of the International Conference on Quality of Higher Education in Federal Nepal on behalf of LJMU, Bournemouth University and Manmohan Memorial Institute of Health Sciences (MMIHS) in Nepal.  Earlier this year BU signed a Memorandum of Agreement with MMIHS in Kathmandu.