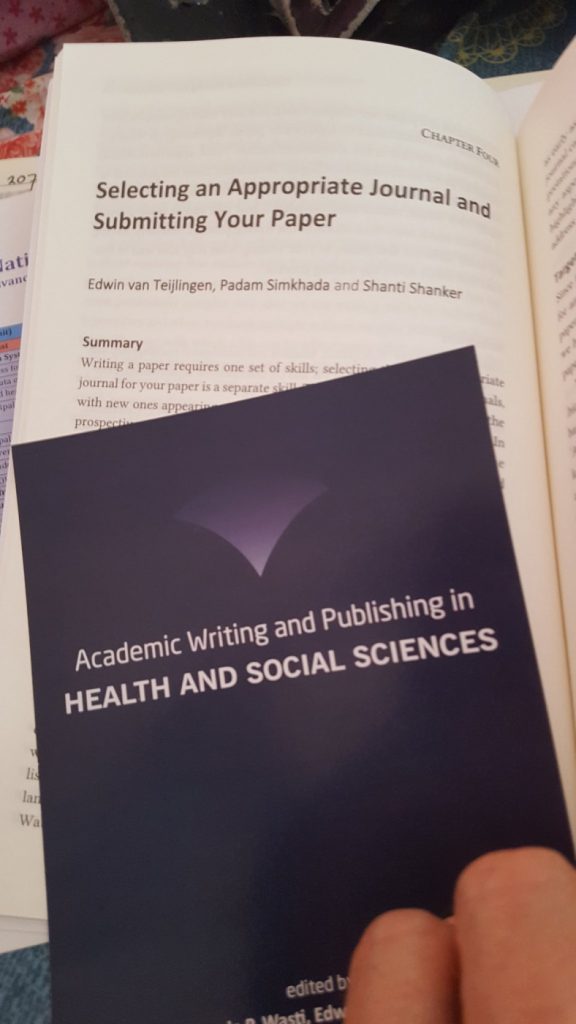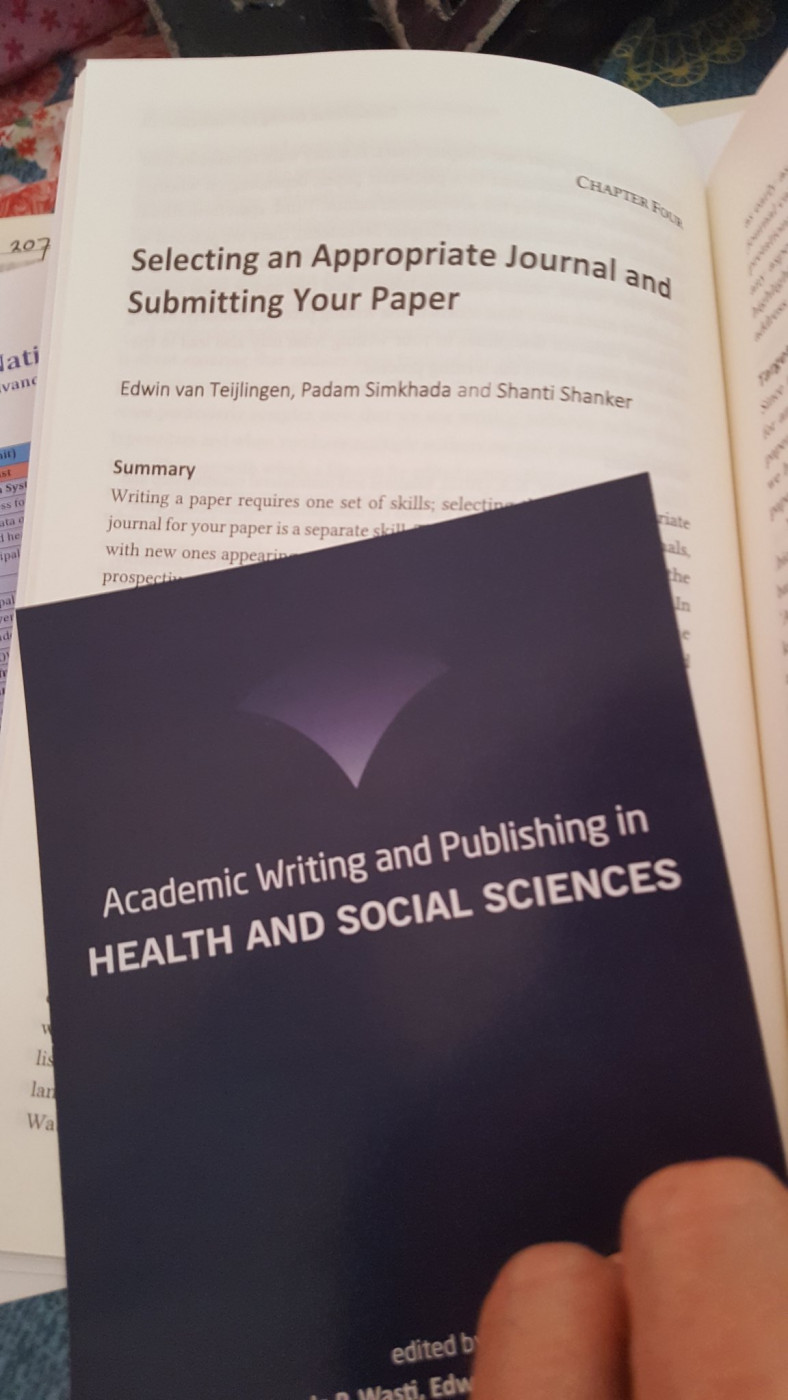 Two days ago Bournemouth University (BU) Professors Vanora Hundley and Edwin van Teijlingen together with University of Huddersfield academics Dr. Sharada Prasad Wasti and Prof. Padam Simkhada launched their edited collection Academic Writing and Publishing in Health and Social Sciences. This textbook is a guide for people attempting any kind of writing on social science or health science. Whether an MSc student, a PhD student, a health professional, a researcher, an academic or an editor, the book is packed with practical tips, expert advice, and examples to develop skills and build confidence. Each chapter addresses a different aspect of the art and science of writing and publishing. Written in a most accessible style, the book will be a particularly handy tool for budding academics who want to see their work in print.
The volume has been put together by editors with a long and wide-ranging experience as journal editors, peer reviewers, book authors and authors of papers published in scientific journals across the globe.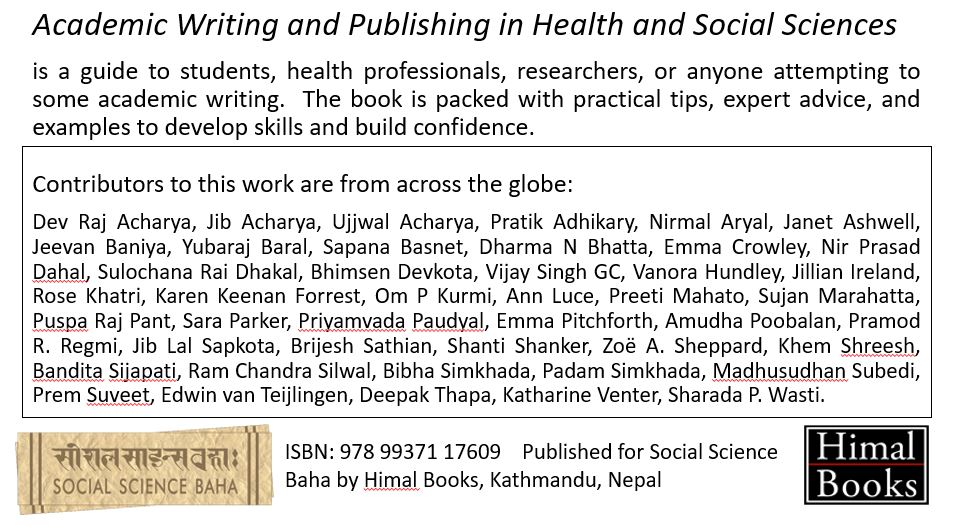 They have brought together authors from Europe, Nepal, the Middle East, and the USA to share their skills, wisdom, and experience in the production of this very useful and usable book. The collaborators are all listed in the box on the side, but we would like to highlight those authors with a BU link. The authors include former BU PhD students Dr. Jib Acharya and Dr. Pratik Adhikary.  We have contributions from both the current and a former BU librarian, Emma Crowley and Janet Ashwell respectively.   There are contributions from several BU Visiting Faculty: Prof. Padam Simkhada & Dr. Bibha Simkhada (both University of Huddersfield), Dr. Emma Pitchforth (University of Exeter), Dr. Brijesh Sathian (based in Qatar), and Jillian Ireland (Professional Midwifery Advocate at University Hospitals Dorset NHS Foundation Trust).  Several BU staff contributed to various chapters: Prof. Ann Luce, Dr. Shanti Shanker, Dr. Preeti Mahato, Dr. Nirmal Aryal, Dr. Pramod Regmi, and last but not least, current BU PhD student Sulochana Rai Dhakal.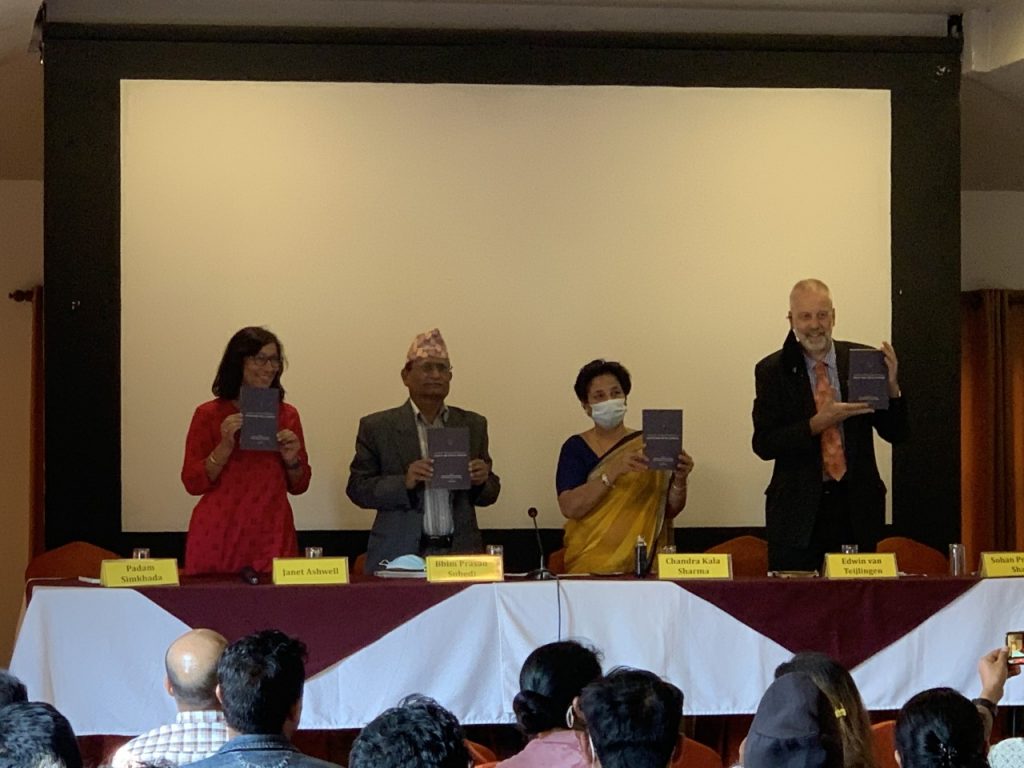 The launch in Kathmandu was hosted by Martin Chautari and supported by Green Tara Nepal (GTN).  Over one hundred people attended this book launch.  Part of the deal with Social Science Baha and the publisher Himal Books is that the book price will be kept low to keep it affordable for students and poorly paid lecturers in Nepal .