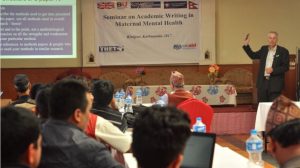 Yesterday and today we offered sessions on academic writing and publishing at two different higher education institutions in Kathmandu.  Yesterday we run a session for staff and postgraduate students at Tribhuvan University, in the Department of Health, Physical & Population Education.  Staff in the Department of Health, Physical & Population Education are our Nepali key collaborators in a THET-funded project aiming to improve mental health training in community-based maternity care providers in the south of Nepal.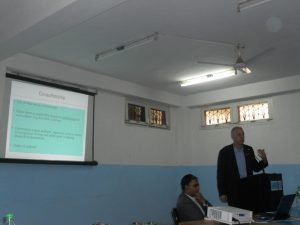 Today's workshop was held at Manmahon Memorial Institute of Health Sciences (MMIHS). BU's Faculty of Health & Social Sciences has been running joint research projects with MMIHS for the past three or four years.  The sessions are jointly run with BU's Visiting Professor Padam Simkhada, who is based at Liverpool John Moores University.  These workshops are capacity-building among academics and students in Nepal.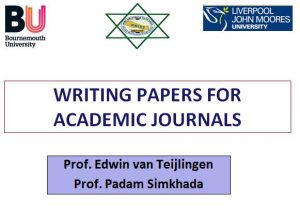 Our sessions are based on our experience in academic writing as well as that of acting as peer reviewers and journal editors.  Our sessions are also linked to some of the papers we have published ourselves on the process of academic writing. [1-8]  Most of these publications on publishing are in Open Access journals.  Hence papers are freely available anybody in Nepal, and elsewhere in the world, of course.
Prof. Edwin van Teijlingen
CMMPH
Hall, J., Hundley, V., van Teijlingen, E. (2015) The journal editor: friend or foe? Women & Birth 28(2): e26-e29.
Hundley, V, van Teijlingen, E, Simkhada, P (2013) Academic authorship: who, why and in what order? Health Renaissance 11 (2):98-101 www.healthrenaissance.org.np/uploads/Download/vol-11-2/Page_99_101_Editorial.pdf
Pitchforth, E, Porter M, Teijlingen van E, Keenan Forrest, K.. (2005) Writing up & presenting qualitative research in family planning & reproductive health care, J Fam Plann Reprod Health Care 31(2): 132-135.
Simkhada P, van Teijlingen E, Hundley V. (2013) Writing an academic paper for publication, Health Renaissance 11 (1):1-5. www.healthrenaissance.org.np/uploads/Pp_1_5_Guest_Editorial.pdf
van Teijlingen, E., Ireland, J., Hundley, V., Simkhada, P., Sathian, B. (2014) Finding the right title for your article: Advice for academic authors, Nepal J Epidemiol 4(1): 344-347.
van Teijlingen, E., Hundley, V., Bick, D. (2014) Who should be an author on your academic paper? Midwifery 30: 385-386.
Teijlingen van, E, Simkhada, PP, Rizyal A (2012) Submitting a paper to an academic peer-reviewed journal, where to start? (Guest Editorial) Health Renaissance 10 (1): 1-4.
Teijlingen van, E, Simkhada. PP, Simkhada, B, Ireland J. (2012) The long & winding road to publication, Nepal J Epidemiol 2(4): 213-215 http://nepjol.info/index.php/NJE/article/view/7093/6388