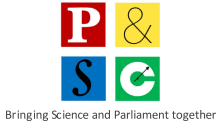 STEM for Britain, hosted by the Parliamentary and Scientific Committee, is a poster competition for early-career researchers, and will take place in the Houses of Parliament on Monday 9th March 2020.
Applications for posters will open on Monday 23rd September 2019 to early career research scientists, engineers, technologists and mathematicians to exhibit posters in one of the following five areas:
Biological and Biomedical Sciences
Chemistry
Engineering
Mathematical Sciences
Physics
Prizes will be awarded for the posters presented in each discipline which best communicate high level science, engineering or mathematics to a lay audience.
BU is inviting expressions of interest from those who would like to apply. Please email Lisa Andrews, RDS Research Facilitator with two sentences on what your poster would cover.
Full details of the competition and exhibition, including the application form will be made available on www.stemforbritain.org.uk from 23rd September.