Try to imagine living with dementia. Now consider how it might feel caring for a person with dementia. Both concepts are challenging to imagine. However, understanding such concepts is key to improving the delivery of care.  
On 27th June 2023, the cameras were rolling live on Lansdowne Campus at Bournemouth University. Dr Michelle Heward and Director Jon Nichols (Jon Nichols Video Production) were filming a train-the-trainer video designed to support those wishing to use the Dementia Education and Learning Through Simulation 2 (DEALTS2) toolkit confidentially in their own training. The DEALTS2 programme, commissioned by Health Education England, is a training package that uses simulation-based activities to place staff into the shoes of a person with dementia. 
Social care providers including Managers, Support Workers, and Developmental Leads who deliver dementia training to staff in their care homes, day centres, and home care services across Dorset came in to receive training and were filmed for the video. There was a fantastic buzz as everyone arrived welcoming the opportunity to "refresh their dementia knowledge" and were excited to "gain new ideas to deliver dementia training".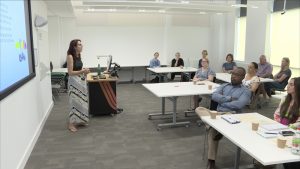 Delivered wonderfully by Dr Michelle Heward, the training was enjoyed by all especially during the simulation activities. These scenario activities included cost-effective and fun tasks such as making origami swans with varying levels of challenging instructions, some deliberately frustrating! Designed to stimulate understanding of living with dementia to inform the care provided, the tasks were considered as "helpful", "informative", and "thought provoking and relevant to their service and carers".  
After a reinvigorating day filming, care providers were "excited to go away and use the DEALTS2 training" and felt "confident" in delivery of the "excellent" resources. It was fantastic to hear most organisations are hoping to use the DEALTS2 resources within their own organisations in the next few months.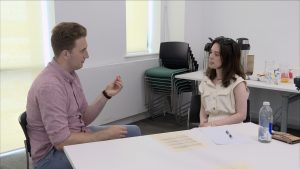 Thanks to everyone who came along, agreed to be filmed, and helped produce the train-the-trainer video. Everyone did an amazing job and appeared unfazed by the camera during the demands of film production. Thanks also to Harry the boom operator and local actors Alex, Samuel, Rae, Amelia, and Nora who supported the day. The DEALTS2 train-the-trainer video was only possible with all your help. Currently in the editing process, watch this space to see how everyone got on!
For more information or to access the DEALTS2 training programme please visit: https://www.hee.nhs.uk/our-work/dementia-awareness/dementia-education-learning-through-simulation-2  
Lyndsey Bradley, BSc final year undergraduate
Research Assistant
Faculty of Health and Social Sciences