On 9th December Bournemouth University Dementia Institute (BUDI) were delighted to welcome Year 12 Health and Social Care students from The Grange School in Christchurch. Putting our local partnership working into practice, the students took part in a Dementia Friends session and learnt about some of BUDI's recent projects, including the Living Well with Dementia video and the BUDI Orchestra. We hope that the student's learning will translate positively into their future practice, and were pleased to see that their feedback forms stated they will take the following actions as a result of the session:
• "Help people with dementia if I see them struggling"
• "Correct people when they say dementia sufferer"
• "Help people to understand dementia"
• "Be more patient"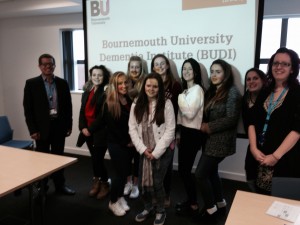 Dementia Friends sessions are part of a national initiative by the Alzheimer's Society to raise awareness of dementia within our local communities. The sessions are designed to help people learn more about what it's like to live with dementia so that those affected by the condition can feel included in their local community. BUDI run regular Dementia Friends sessions, if you would like to find out more please look out for further details on the BUDI website in 2015.
Dr Michelle Heward and Dr Ahmed Romouzy Ali