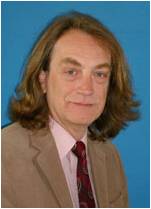 My EUNF application relates to one aspect of a program of research that is in the early stages of development. Over the past few years I have been working with a colleague on the development a theoretical framework that describes how people adapt to living with HIV.  Named the 'Theory of Negotiating Uncertainty', it is a potentially important clinical assessment theory that promises significant social benefit for people living with a wide variety of chronic conditions (such as HIV, sickle cell disease, multiple sclerosis, hepatitis, congestive cardiac failure, asymptomatic genetic predispositions to a variety of disorders such as breast cancer). Concurrent developments of the theory include multi- and cross-cultural testing and the construction of an assessment tool that can be used to assess how people cope with clinical uncertainty that in turn creates significant threats to wellbeing and quality of life. Psychological and other therapeutic interventions can be initiated for those who are found to be unable to effectively negotiate the uncertainty of their lives, thus ultimately improving wellbeing and quality of life.
Being the recipient of an EU Network Fund award will allow me to explore the possibility of replicating the initial study in a different cultural environment. To this end, I will be meeting with a wide range of potential collaborators and key university and hospital contacts in Crete and Athens, Greece. In May of this year I will travel to meet Dr A Stavropoulou (Assistant Professor, TEI Crete), Dr T Stroubouki (Senior Lecturer, TEI, Athens) and P Papatheodorou (Deputy Head Nurse, Andreas Syggros Hospital, Athens; the clinical base for the project). Meetings with key administrative and support personnel in TEI Athens and Crete will include representatives from the Departments of Public & International Relations, Departments of Research and Development Projects, the Presidents of TEI in Crete and Athens and the Directors of the Departments of Nursing; and finally the Directors of Medicine, Nursing and Research, Syggros Hospital, Athens. Having the opportunity to meet face-to-face will strengthen the research team and collaborative possibilities and facilitate the subsequent research activity by creating trusting working relationships in which decisions can be taken and research conducted with confidence.
This project sits firmly in the Health, Well-being and Ageing 'BU Research Theme' and is solidly placed to contribute towards the HSC research sub-themes. There may also be scope to ultimately involve individuals from other schools in BU.