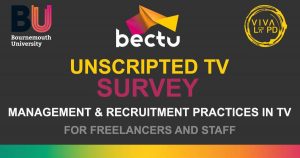 This week sees the launch of The State of Play survey, an important new study into management and recruitment practices across the UK's television industry. The initiative is a collaboration between colleagues in the Faculty of Media & Communication, the television union Bectu, and the freelance Producer-Directors' association, Viva La PD.
It's an exciting development' says Christa van Raalte, Deputy Dean for Education & Professional Practice in the Faculty. 'BU has long been known for the graduates who go on to work in the media, but we also have an important contribution to make to improving the way these industries actually operate'.
Prior to the pandemic, the UK's film and television sector had been generating an annual trade surplus of almost £1 billion. Yet Covid-19 has exposed systemic and routinely overlooked problems. Chronic under-investment in professional development and over-dependence on an army of freelance workers has made it especially vulnerable. These workers – reliant on precarious, short-term contractual employment – have faced months without work, with over half ineligible for any Government support. Many may be permanently lost to the industry, exacerbating both pre-existing skills shortages and the industry's well-documented lack of diversity. However the crisis has also been instrumental in raising awareness of structural weaknesses, previously unacknowledged by many industry leaders. This presents an unprecedented opportunity for much needed reform.
The study draws on previous work that BU has done in this area, and feeds into a larger piece of work for which external funding is currently being sought.
For more information about The State of Play survey, contact:
Richard Wallis (rwallis@bournemouth.ac.uk)
Department of Media Production, FMC.