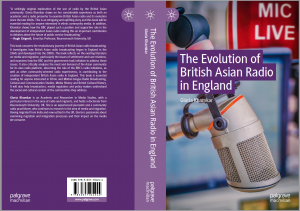 Are you curious about the origins of British Asian radio broadcasting in England? Look no further than the ground-breaking book, The Evolution of British Asian Radio in England, written by the BU FMC academic Dr. Gloria Khamkar. Published by Palgrave Macmillan, this book is based on Dr. Khamkar's pioneering doctoral research conducted at Bournemouth University.
The Evolution of British Asian Radio in England unveils the captivating story of British Asian radio broadcasting that will leave you enthralled. Delving into the 1960s through the 2000s, it explores the emergence and growth of British Asian radio broadcasting. You'll discover the intertwined themes of migration, integration, race relations, and media representation, alongside the initiatives undertaken by the BBC and the UK government to address these issues. The book critically examines the necessity and demand for a dedicated radio platform within the British Asian communities. This book is a must-read for those interested in ethnic minority and mother-tongue radio broadcasting, cultural and communication studies, media history, and British cultural history. Moreover, it provides invaluable insights to broadcasters, media regulators, and policymakers, enabling them to grasp the social and cultural landscape of the communities they engage within today's world.
This work does not only have a research value, but also a much deeper personal connection and meaning to Dr Khamkar. She states, "This work is the result of my honest and ongoing quest to understand the migration process and its impact on our lives, including all the ways it changed the media landscape. I have been volunteering as a British Asian radio presenter and producer at Southampton's Asian radio station Unity101.1FM since August 2010. I host a weekly live radio show Suhaana Safar (meaning 'A Beautiful Journey') and have briefly served as a Deputy Station Manager. During my time at this radio station, I have been exposed to a real setup of a British Asian community radio station, solely catering to the British Asian community in Southampton and surrounding areas. Regular interaction with the station's listeners, volunteers, presenters, and the manager has shaped my thought process and helped me develop a rigorous understanding of community broadcasting. Such a radio station helps its community in terms of education, information, entertainment and is, thereby, empowering. It has strengthened my judgment that there was, and still is, a need for radio services for the British Asian community living in England. This is my analysis based on first-hand research. I hope it helps you learn more about the historical movement and the earnest campaign behind what we see as a successful independent British Asian radio broadcasting in England today."
Immerse yourself in the fascinating journey of British Asian radio and gain a deeper understanding of its impact and significance.
Dr. Gloria Khamkar is a distinguished academic and accomplished researcher specialising in Media Studies, with a specific focus on radio and migrant communities. Holding a doctorate from Bournemouth University, she brings extensive expertise to her work. With a background as both a seasoned journalist and a community radio practitioner, Dr. Khamkar maintains a constant commitment to exploring the dynamic relationship between media and migration. Having personally experienced migration from India and establishing herself in the UK, her passion lies in comprehensively examining the intricate processes of migration and integration. She is particularly interested in understanding their profound influence on the media landscape and the content we consume. Dr. Khamkar's profound insights and unique perspective make her an invaluable contributor to the field of Media Studies. Her continued research in media and migration showcases her unwavering dedication to advancing knowledge and fostering a deeper understanding of these critical subjects.
If you are interested in knowing more about Dr Khamkar's fusion work, please check this link and you can also get in touch with her at gkhamkar@bournemouth.ac.uk.