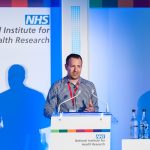 Dr Samuel Nyman, Psychology Dept and Ageing and Dementia Research Centre, is currently an NIHR Career Development Fellow. He was recently invited to present at the NIHR's annual meeting for the NIHR faculty in
Leeds (14-15/11/2017). The focus of the meeting this year was, 'Future Training for Future Health'.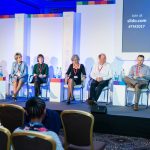 Samuel was invited to present on his own personal career journey to date, and then join the discussion panel to discuss future challenges alongside Professor Chris Whitty (Chief Scientific Adviser, Department of Health), Dr Louise Wood (Director of Science, Research and Evidence, Department of Health), Professor Dave Jones (NIHR Dean for Faculty Trainees), Professor Ashley Adamson (NIHR Professor in Public Health Nutrition, Newcastle University), and Dr Katherine Sleeman (NIHR Clinician Scientist, King's College London). It was great to network with other NIHR fellows, and to have stimulating discussions around what aspects facilitate career development and the future challenges and opportunities ahead for health research including Brexit.